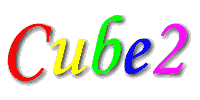 It renamed it from "Qube" to "Cube".
"Cube2" is the game which operates cursor, and arranges and erases Cube of the same color as the upper and lower sides or right and left.
Cursor has "move cursor" and "fixed cursor", and if Fire button is pushed, it can change cursor.
It is Stage Clear, when all Cubes are erased, or when Cube cannot be arranged any more.
It is set to Miss when a stage cannot be cleared in the time limit.
And it is Game Over when Miss is carried out 3 times.

Game start

->

Ready go!!

->

The same color
cube will
be arranged at
the top and
bottom or right
and left by the
time the timer
becomes 0.

->

Stage clear!!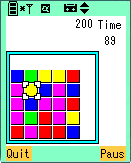 NTT DoCoMo's i-appli