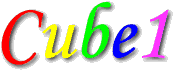 It renamed it from "Qube" to "Cube".
"Cube" is the game which operates Cube block which falls from a top, and arranges and erases four or more Cubes of the color same in all directions.
It becomes game over when Cube cannot be dropped from a top.Whenever Cube falls, speed increases and it becomes difficult.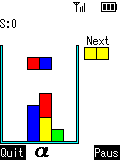 NTT DoCoMo's i-appli